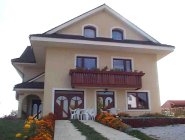 We offer you a pleasant accommodation in our new-built family bed&breakfast house BENY** in Nova Lesná located at the foothills of the High Tatra.

Nová Lesná lays only 3 km from Starý Smokovec, a tourist center of the High Tatra, and 7 km from Poprad that is a business center of the entire Tatra Region. It becomes therefore an ideal place for spending a beautiful holiday in High Tatra. Thanks to its position Nová Lesná enables tourists also to make trips to he neighboring Low Tatra (25 km), Slovak Paradise (30 km) and Pieniny National Park (35 km).

Our bed&breakfast house is situated at the edge of Nová Lesná when arriving from Poprad. Comparing the neighboring bed&breakfast houses our house is the closest one to the Tatra Tram (from the house app. a 4 minutes walk), to the bus stop the distance is comparable.

The lodging capacity of bed&breakfast house BENY is 33 beds, whereby our guest stay in nine two- to four-bed rooms, each equipped with its own shower and toilet. You can offer also a TV SAT to your apartment.

Aside of lodging you can use the full-equipped kitchen with dining room and an extra guest's room, where you can spend nice evenings. We can also provide you with breakfast and/or dinner upon your request. In summer our guests like to gril outside and enjoy the beautiful view to High Tatra.

Secure and free parking is possible directly in front of the house.




We are looking forward to your visit!!!